Charlotte the Champion!
14 February 2020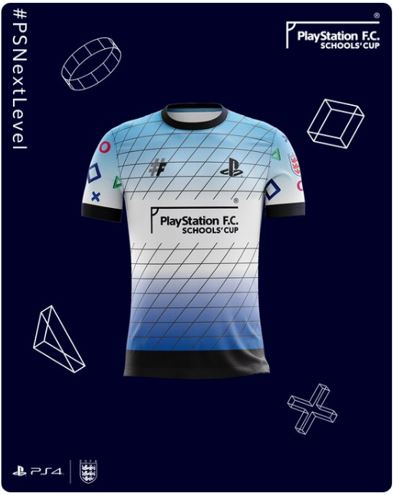 We are incredibly proud of Charlotte Clapham, in Year 9, who has won the national PlayStation F.C. Schools' Cup Concept Kit Competition, with her amazing design that was placed in the final 10.
As part of the competition and in order to complete her design, Charlotte, her friends Alissa and Olivia, Mr O'Neill and Mrs Stewart travelled to West Bromwich Albion Football Club. They all had a marvellous day and took part in a variety of activities.
Once the designs were complete the vote was opened Twitter. It was very exciting to see how the votes were progressing and the final day for voting was Tuesday 11th February. Everyone had their fingers crossed that Charlotte would win and everyone was absolutely thrilled when the announcement was made the Charlotte had indeed won the competition! Charlotte's design will be put into production very soon and she will have the opportunity to go back in May to see her design in real life. You can see Charlotte's fabulous design below:
Photo courtesy of the Playstation F.C.Schools' Cup Twitter feed.
Here is what Charlotte said about her experience so far: "I decided on my colour blue and the pattern of the football nets in the background from the beginning. I feel very happy that my design got through to the final as I never thought it would ever get through. The trip to West Bromwich Albion was amazing. We got a tour of the stadium and lots of amazing activities. It was great to see how much support I got and I felt really overwhelmed when I won because it was very unexpected".
Here is what Alissa said about her day at West Bromwich: "The things that I liked during the day out at West Bromwich was how the day was planned out in a way that in the morning we went round the penalty shoot outs, the gaming section where you could play Fifa and you could go against this well-known unbeatable Fifa player. You could also make your own t-shirts and lastly you had the chance to play planner football. I enjoyed the afternoon slightly more as we got to go to a talk about interviewing, then we went into the away changing rooms, where we learnt about physiotherapy, which I enjoyed because that's what I want to be when I'm older. Then we went into the home changing rooms and learnt how to do sports analysis on the computers. Then lastly we went into a room to make Nando's sauce. Overall, I really enjoyed the day and would love to go back".
Here is what Olivia said about her day at West Bromwich "When we arrived at the Hawthorns we got a bag with Nando's perinaise and a bag of supplies. Then we got split into groups which would then decide what we would do in what order for the day. To start the day off we went round and did the penalty shoot-outs, gaming stations and a panna cage with freestylers. Also we got to make our own t-shirts. However, I enjoyed the afternoon slightly more than the morning because we were allowed to go into the back of the stadium. Firstly we went and had a talk about how to have a good interview, we did this in the press conference room. Then we moved into the away changing rooms where we had a chat about physiotherapy and how to keep yourself fit. Next we went into the home changing rooms which were very comfy and smart. In this bit we analysed different parts of the football on the computers. This was my favourite part of the day because it could link to what I want to do when I'm older. Finally, we made our own Nando's sauce that we could take home. On the whole it was the best trip I've been on this year and I would love to do it again".
We were very excited to see the number of votes, tweets and 'likes' that Charlotte's design received along with congratulations from an amazing variety of people. Even Rio Ferdinand sent out a tweet congratulating Charlotte and looking forward to seeing her design in May! Rio included a link to the competition page too and you can see that here.
Photo courtesy of Rio Ferdinand's Twitter feed.
Tags: Sports News