Maddison's Ambition
7 March 2017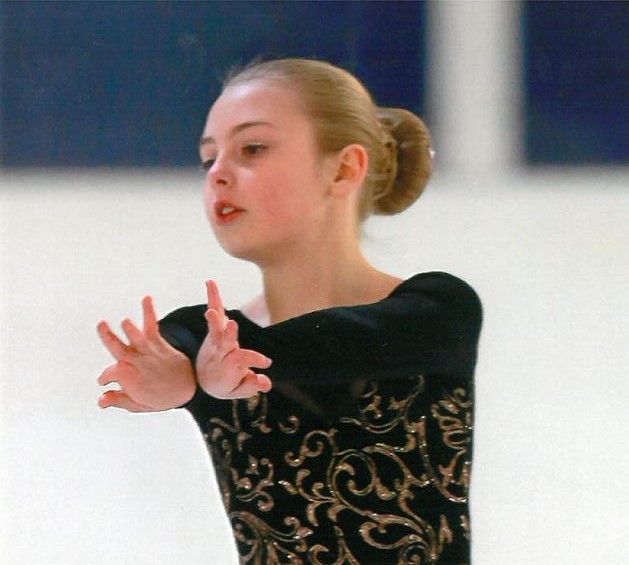 Maddison has been ice-skating for two years. She is coached by Linzi Deacon, herself an ex-professional ice-skater at National level.
Maddison undertakes two one-to-one sessions, two group sessions and off-ice sessions. This enables her, through stretch/core classes, to undertake more complex moves whilst on the ice, such as spirals, spins, catchfoot and sitspins.
All elements of the training, in combination, have assisted Maddison to progress in a sport, that she herself, feels she would like to pursue as a career. Her ambition is to compete at the British Championships.
Maddison has completed Skate UK 1-10 and then progressed onto Skate UK Passport Bronze, Silver and Gold, passing all of these. She has recently succeeded in Nisa Level 1 field moves.
The up and coming exam/competition in London will hopefully allow Maddison to progress through scores/points.
Maddison dances the combined pattern dance, which consists of the fox trot and conasta-tango. Her free skate is to the 1940s jazz song Candy Man.
Maddison is a performer when on the ice, however, the foot work has to be at a level that the judges deem to be of a high standard, which enable scores to be given.
Maddison is keen to progress and has worked hard, ensuring that she is ready for the up and coming competition/exam.
London is the first of three competitions planned, with other venues including Bradford and Murryfield, with the dates to be confirmed.
The physical elements of ice-skating have enhanced Maddison's ability to undertake other sports such a skiing and running.
Maddison has shown that competitive sports have enabled her to challenge herself, aiming to get her personal best in London, whatever the outcome. Maddison shows this, as each time she competes she improves.
The skating has taught Maddison, not just as an individual skater but as part of a team, the importance of teamwork, proving this as she competes with those she trains with.
Maddison has gone from strength-to-strength, and puts in long hours on the ice, this enabled her to get to the level she is at now.
We as parents support her 100%, we also thank the school for acknowledging her ambition and recognising the importance to Maddison and us as parents.
Thank you to Mrs Ginger for this article and photographs.
We look forward to hearing more about Maddison's ice skating results in future competitions and exams.
Tags: Sports News