Dennis and Joe are a Superb Triathlon Tag Team
Dennis and Joe are a Superb Triathlon Tag Team
17 May 2016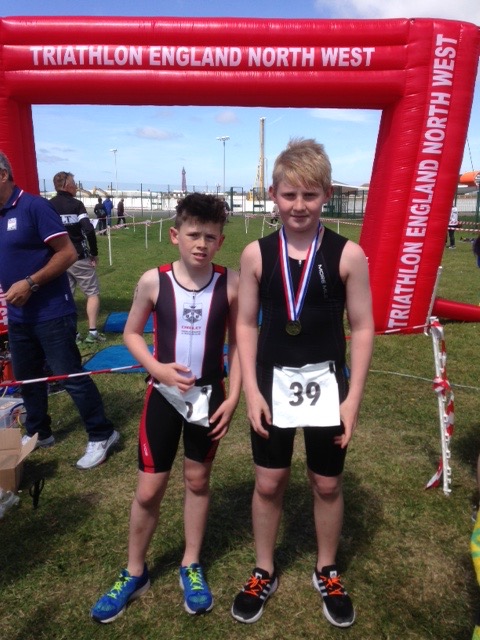 UPDATE 23 May 2016: The full results are now in and Joe and Dennis helped their club (Chorley Athletic and Triathlon Club) to third place overall and first place in the boys category. Great work boys.
Year 7 students Joe Bowles and Dennis Kay represented Chorley Athletics and Triathlon Club in the Triathlon England North West Junior Club Championships on Sunday 15th May 2016.
The boys had to complete 3 full triathlons between them and with some of the teams having a full team of three this was made a little more challenging for a team of two.
Dennis was first in the pool for his 100m swim followed by a short run to transition where swim cap and goggles were replaced by bike helmet, race belt and trainers.
Dennis then rode the 3km on his bike and returned to transition where he racked his bike and removed his helmet before setting off on his 900m run. At the conclusion of Dennis's run he handed over to Joe who also swam, rode and ran overtaking a couple of other teams on his way.
Joe then handed back over to Dennis who swam and rode then tagged Joe to complete the race.
After a total of 12km racing the boys finished a creditable 4th place only 300m or so behind the event winners, who were team mates from Chorley Triathlon and Athletics Club.
Both boys gave their all and richly deserved their medals and goody bags at the end!
Thank you to Mr Kay for the article and photograph.
Well done to Dennis and Joe – we are very proud of you.
Tags: Sports News